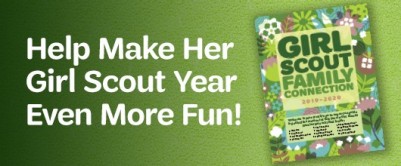 The Girl Scout Family Connection is your family's go-to, super fun guide to getting the most out of this year in Girl Scouts! It's a resource packed with helpful tips and fun activities for the whole family. (You might even have a copy already, so ask your Girl Scout if she received one, and check the mail, too!) Download yours now.
Continue >

Local Girl Scouts extend online Cookie Program, provide cookie care packages to local COVID-19 heroes
01 Apr 2020
Girl Scouts of San Jacinto Council (GSSJC) is rallying communities across southeast Texas to provide cookie care packages to thousands oflocal heroes who are on the front line of the COVID-19 response. The local Girl Scouts are asking the public to purchase and donate cookies online through their Cookies4Heroes program. The care packages will be safely delivered to healthcare workers, first responders, grocery store employees and other organizations that are bravely contributing during this difficult time.

Celebrate Girl Scout Week March 8 - 14
26 Feb 2020
Service is fundamental to Girl Scouting. Providing a service to others is the perfect way for girls to demonstrate their leadership and tenets of the Girl Scout Promise and Law. Girl Scout week is a great time to incorporate acts of service and complete service projects!