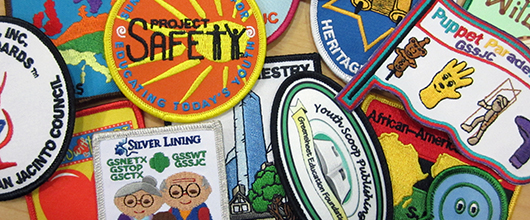 Council Patch Program
Many councils have a series of patches that are unique to their geographic area. Over the last few years, we have been redesigning our suite of patches to fit new GSUSA guidelines that enable councils to create their own badges! Over the coming year, we will begin releasing new council badges that will mirror the format of the national badges – but through topics that are unique to the San Jacinto Council area.
We will be transitioning from what began as more than 100 patches tailored to specific areas or business to 10 badges for each level (60 badges total) that focus on what makes southeast Texas special. The Golden Link will feature an announcement when the GSSJC Council Badge Program launches. Until then, there are select patches from our old patch program still available from the list below while supplies last.
Need to purchase a patch? Council patches are often kept at lower stock numbers due to the shift in content we will be implementing. We recommend contacting the Girl Scout Shop at 713-292-0247 to ensure the number you need is available so you can purchase them before beginning the patch curriculum.
GSSJC is celebrating its 100th anniversary this year, and we thrilled to share that all Girl Scouts - girls and adults - can earn a commemorative 100th celebration patch to mark this milestone! The patch can be earned by watching a video about the council's history on our YouTube channel.  Go here to learn more about our Anniversary Patch program and the multiple charms you can add to personalize your patch! The Anniversary Patch will be available through Sept. 1, 2023.
May is National Mental Health Awareness Month, so now is an opportune time for Girl Scouts to earn their Okay to Say and Resilient, Ready, Strong patches. In the Okay to Say Patch program, girls learn greater social and emotional confidence through hands-on activities. Through the Resilient, Ready, Strong program, girls choose activities that help them feel happier, calmer, and confident to face challenges.