SILVER AWARD DEADLINE: Girl Scouts who are currently in the eighth grade, must submit their Silver Award Intent Form no later than Aug. t 1, 2023 (the summer after they complete eighth grade). Once approved by council, they must complete their project and submit their Final Report no later than Sept. 30, 2023. Forms must be emailed to silveraward@sjgs.org.
Silver Award Girl Scouts
When Girl Scout Cadettes focus on an issue they care about, learn the facts, and take action to make a difference, they gain the confidence and skills that will catapult them to lifelong success. It all adds up to the Girl Scout Silver Award—the highest honor a Cadette can achieve.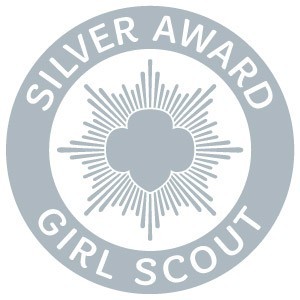 Reminder: Forms available on this page must be submitted digitally and include Adobe Digital Signatures. Scanned, photographed or printed copies are not accepted.
You can pursue your Girl Scout Silver Award if: 

You're in sixth, seventh, or eighth grade



You're a registered Girl Scout Cadette 
 

You have completed a Cadette Journey
 

Girl Scout Silver Award Steps
 

Identify an issue you care about
 

Build your Girl Scout Silver Award team or decide to go solo
 


Pick your Silver Award project
 


After receiving approval, implement the project

Reflect, share your story and celebrate